A super gorgeous wig on sale! Only $229.9 for a Indian Remy Human Hair Lace front wig with free shipping! Check out UniWigs weekly deal for the details now.
You will like this wig:
Top quality Indian remy human hair (Tangle Free + Long Lasting), lace front construction with wefted back gives you a natural front hairline, extremly comfortable on the scalp.
A straight wig with slight natural wave.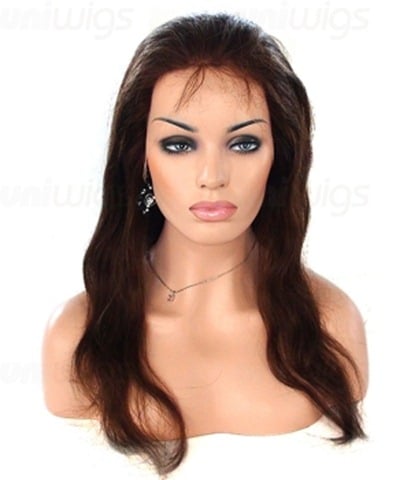 Tyrina Lace Front Wig
Customer Show of L0028
Here is a review of this wig which we want to share with you:
(for the protection of this customer's privacy, we will omit her name and photos)
" I've bought a few wigs over the last few weeks, since I'm suffering some real hair loss. I haven't been certain as to what style or type of hair I'd want, but when this one arrived, I fell in love.
It helps that the color (4, medium brown) perfectly matches my own – you can't tell my natural hair from the wig's hair. Most of the other pieces I've ordered are 1B, extremely dark and would require me to get them recolored for a more natural look. For a natural brunette like me, this compliments my hazel eyes and skin tone much better than the black wigs I've gotten. Straight out of the box the way it is, I could have this thing on and be out the door within minutes with no fuss or need to style/re-color.
I don't think the photos does the color justice. The hair has warm brown and red highlights and feels amazing and light. Very natural. I had a similar synthetic I was practicing wearing around in preparation of dropping some cash on real human hair. While I felt the quality was great for the price on my synthetic, this one blows it away in quality.
It's not big and crazy like a Tina Turner style, which makes me feel awkward as I've had thin hair all my life and I'm not used to big, puffy styles. This wig sits against my head without sticking out and looking comedic on me. I am barely aware it's there, it's so light. I've had trouble with other wigs being quite heavy and uncomfortable, but this one is like I grew my own head of hair.
I also love the baby hairs along the edge of the forehead. It's very fine and wispy and acts like natural baby hair. Not like longer hair that was trimmed down and sticks out in clumps and looks unnatural. (Some of my other pieces have awkward baby wisps I've got to deal with.)
The medium size cap also fits me very well; not loose or tight at all. A big pro to this wig: this is the first wig with a cap that has adjustable straps at the back! I've been very disappointed to find that 5 of the other wigs I've had, the caps that just come in one size that you can't adjust. This one, however, I am surprised to discover has the elastic bands to help resize the cap for a better fit. Very pleased!
I've experienced some shedding, but nothing drastic (and nothing like my own hair that comes out more than it should). The length is great, leaves a lot of room for styling. I would highly recommend this style for anybody who wanted to give it a shot, especially hair loss sufferers like me. I actually feel natural and confident, without a really "wiggy" look!
I'm glad I took the risk of trying this wig. I will definitely add it to my must-have list and order more in the future!"
Source: Blog.uniwigs.com